Program Committee
General Chair
Mohammad S. Obaidat
Monmouth Univ., NJ, USA
Program Chairs
Jose Marzo
Univ. of Girona, Spain
Ljiljana Trajkovic
Simon Fraser Univ., Vancouver, Canada

Helena Szczerbicka
Univ. of Hannover, Germany

Tutorials and Special Sessions Chair
S. Dharmaraja
Indian Institute of Technology, Delhi, India
Awards Chair
Franco Davoli
Univ. of Genoa, Italy
Publication Chair
Pawel Gburzynski
Univ. of Alberta, Canada
Publicity Committee
Guoping Zeng
(Co-Chair)
Essia H. Elhafsi
Univ. of California-Riverside, USA (Co-Chair)
Abdelmajid Khelil
Technical Univ. of Darmstadt, Germany
Antonio Pescapé
Univ. of Napoli "Federico II", Italy
Weiguang Shi
Univ. of Alberta, Canada
Hua Zhu
San Diego Research Center, CA, USA
Local Arrangement Chair
Richard MacDonald
RMC, USA
Webmasters
Antonio Bueno
Univ. of Girona, Spain
Michael J. Chinni
US Army TACOM-ARDEC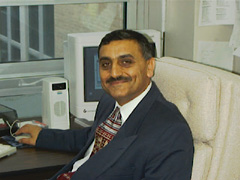 SPECTS 2007 General Chair's Message
10th Anniversary of SPECTS
Performance evaluation is the right tool for proper operation and cost-effective design
Welcome to the 2007 International Symposium on Performance Evaluation of Computer and Telecommunication Systems, SPECTS'2007. This year conference marks the 10th anniversary of SPECTS, which has become a premier international conference on performance evaluation of computer and telecommunication systems.
We are delighted to see the impressive progress of this conference which we established ten years ago and has evolved nicely with worldwide excellent reputation.
I would like to thank many key organizers of spects who have exerted outstanding efforts to make this conference a first class international forum. Among these, I would like thank Dr. Humayun Khalid, Dr. Franco Davoli, Dr. Marco Ajmone Marsan, Dr. Erina Ferro, Dr. Abbas Jamalipour, Dr. Mario Marchese, Dr. Jose Marzo, Dr. Ljiljana Trajkovic, Dr. Helena Szczerbicka, Dr. Carey Williamson, Dr. Guoping Zeng, Dr. Raffaele Bolla, and Dr. Essia Elhafsi.
SPECTS'2007 offers a unique forum for researchers and practitioners from academia, industry, business, and government to share their expertise results and research findings in all areas of performance evaluation of computer, telecommunications and wireless systems including modeling, simulation and measurement/testing of such systems.
This year's SPECTS includes an outstanding technical program, distinguished keynote speakers, and insightful tutorials. We have chosen the San Diego Marriott Mission Valley Hotel and Conference Center as the site for our conference. The hotel provides excellent meeting facilities and will be a comfortable setting for our multiconference.
The theme of this year's conference, "Performance evaluation is the right tool for proper operation and cost-effective design", reflects the important role this technology is playing in the new economy and information society, where computer and telecommunication systems, both wired and wireless, are widely used and spread all over sectors, countries, and continents.
SPECTS 2007's technical program consists of several parallel tracks every day and it will last for three days. Each track consists of several sessions of top quality papers. The topics covered in the program include wireless communications and networks, high speed networks, mobile and ad hoc networks, security and reliability, wireless LANs, Quality of Service (QoS), Internet computing, web server performance, high performance computing/computers, switching and routing, parallel and distributed systems, computer architecture, queuing analysis, TCP/IP systems, flow and congestion control, client–server systems, resource managements, measurement, and Internet web-based applications and services, among others. We received this year a large number of papers and we accepted only very high quality papers.
Many individuals have contributed to the success of this high caliber international conference. My sincere appreciation goes to all authors including those whose papers were not included in the program. Many thanks to our distinguished keynote speakers for their valuable contribution to the conference. Special thanks to the program chairs, Professors Jose Marzo, Ljiljana Trajkovic and Helena Szczerbicka, for their outstanding work on the technical program. Thanks to the program committee members and their reviewers for providing the professional technical reviews. Thanks also to Prof. Pawel Gburzynski, the publication chair, for his good work on putting together the program. Thanks also to the tutorial chair, Prof. S. Dharmaraja, for his efforts on the tutorials. Thanks to Prof. Franco Davoli for serving as the awards chair and for his continuous support of SPECTS.
Special thanks go to Antonio Bueno and Mike Chinni, for helping as webmasters. Many thanks are due to the publicity committee members, especially the publicity committee chairs, Dr. Guoping Zeng and Dr. Essia Elhafsi, for their great efforts at publicizing the conference. Many thanks to the session chairs and exhibit chair. Thanks are also due to Steve Branch, SCS Executive Director, for his fine support.
Finally, on behalf of the Executive and Steering Committees of the 2007 International Symposium on Performance Evaluation of Computer and Telecommunications Systems, SPECTS'2007, and the Society for Modeling and Simulation International, SCS, I invite all of you to be with us in San Diego at SPECTS 2007.
Mohammad S. Obaidat
General Chair, SPECTS'2007